A TSN Specialty!
When bad weather strikes Texas, we'll be there for you. Detailed reports from our staff
meteorologist available to affiliates.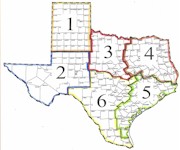 TSN provides agriculture weather forecast every weekday morning for six discrete regional zones across Texas. There also are daily weather summaries and forecasts for morning and mid-day listeners on both the main Texas State Network and the Agri-Business Network.