Texas Overnight
with Charley Jones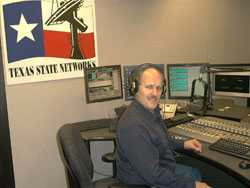 Veteran Texas broadcaster Charley Jones fills the airwaves across the state (and beyond) with Texas Overnight. This popular long-running Texas State Networks' call-in show is distributed via satellite, live each weekday morning from midnight to 4 am.
With Texas Overnight, Jones hosts an insightful discussion of statewide issues of the day in his trademark conversational style.
"There are hardly any live, local overnight talk shows that deal with issues," Jones says, "but that all changes now."
Texas Overnight is carried on almost 20 Texas stations. These include the TSN Flagship, KRLD in Dallas, plus KEYS in Corpus Christi, KROD in El Paso, KTBB in Tyler & KJTV in Lubbock."
To reach Charley, call toll-free 888-256-1080 or e-mail him, using the form below.